NEET UG 2019 – COUNSELLING
APPLY ONLINE MCC.NIC.IN
NEET UG 2019 Counselling can be expected to be started from Second Week of June 2019. State Level & National Level Counselling will be conducted separately by the respective bodies.
The Candidate must have been registered and choice filling must be completed successfully in order take part in the NEET UG 2019 Counselling.
NEET UG 2019 – counselling for the 15% of the seats which comes under, All India Quota is managed by the Medical Counselling Committee of the Directorate General of Health Services.
Seats in the respective colleges will be allotted as per the preference of the Choice-Filling done by the students and also in accordance with the merit rankings, category, availability of seats in the respective institutions.
Applicants who wish to leave from the allotted seat after the second round of NEET 2019 should have to take part in the online acquiescence (Resignation) process. Once a seat has been allotted for a student, they must report to the respective institution within the mentioned schedule.
The seats that are left empty after the first round of NEET 2019 counselling will be carry forwarded into the second round.
In the past year, MCC has released the final result of NEET All India Quota counselling and for Deemed and Central Universities on June 23, 2018.
The result was discharged as seat allocation list in a single window system along with the seat allotment letter for the respective students.
The result of first round NEET 2019 counselling will be distributed in online mode in a PDF format.
NEET UG Counselling 2019 Calendar
NEET Counselling Schedule
Central Counselling
State Counselling
All India Quota
Deemed + Central
Conduct of Exam
May 6
Declaration of Result
June 4
1st round of Counselling
June

13 – 22

June

13 – 22

June 25

–

July 5

Last date of Reporting
July 3
July 3
July 12
2nd round of Counselling
July

6 – 12

July

6 – 12

July

15 – 26

Last date of Joining
July 22
July 22
August 3
Mop-up round
(–)
August

12 – 22

August

4 – 8

Last date of Joining
(–)
August 26
August 12
The vacant seat list will be given back to the medical colleges by the authorities.
(–)
August

27

August

13

Last date of Joining
August

12 – 17

August

15 – 17

August

18
How is Merit List Finalized for NEET 2019?
The Eligibility criteria for the listing of NEET 2019 Merit List is generated based on rules as coordinated by the Medical Council of India and the Dental Council of India.
The basic qualification is set according to the Graduate Medical Education Regulations 1997.

The applicants of NEET 2019 Merit List incorporate the accompanying terms:
A candidate must accomplish the least required marks of 50th percentile in the qualifying entrance test, i.e., NEET 2019.

The required number of candidates to be incorporated into the merit list are pre-decided. But if the required number of candidates fail to fulfill the seats, then the central government of India along with the with MCI and DCI may reduce the minimum required marks as its mandatory to fulfill the admissions in the institutions.

Finally, after all, Any Aspirant competing for the admissions must be passed in Physics, Biology, Chemistry, and English or equivalents individually with a minimum of % of marks in each subject.
NEET Counselling Registration Steps
Registration for NEET Counselling begins only after the declaration of NEET 2019 Results. MCI usually follows a formal procedure of conducting Two rounds of counselling to fill 15% of All India Quota Seats. The steps involved in NEET Counselling Registration are as follows:
Step 1: Visit the official website of MCC and click on 'New Registration'.
Once you have entered all the required informations asked, a new Roll No. and Password will be generated individually for you. Use these credentials to register for NEET Counselling.
Step 2: Then, Log on to the mcc.nic.in and click on 'Candidate login'.
Step 3: Enter your Roll number and Password.
Step 4: You will be redirected to a new page. There you be asked to enter for your personal details such as Name, Roll No., Registration No., Mother's Name, Contact No., etc. Enter everything clearly and click on 'Submit'.
Step 5: After these entire steps are over, you will be shown all your details as per the NTA database for your final verifications. Verify the information once thoroughly and click on 'Confirm Registration'. A Registration Slip will be generated and you must take a hard copy of the respective.
 Choice Availability and Locking
Choice Locking will be open and will be available only for a specific time period on the given day as per the schedule.
Once you've registered successfully for NEET 2019 Counselling, then you have to click on 'Choices Available'.
The pre-programmed system will internally run with the candidate's details like Category, Sub Category, Date of Birth, Eligibility and accordingly, will show the choices available for admission in the respective institutions along with the number of seats available in there.
Available choices as per the criteria's of the student will be shown on the left side of the display and the list of choices submitted will be shown on the right side of your screen. Now, you have to Select the medical/dental colleges in the order your preference with full concentration.
Once you feel, you have done your Choice Fillings, you have to enter your password and click on 'Lock Choices'.
Candidates must be very careful since you are not at all allowed to make any changes after locking your choices.
Once you have finalized your Choice Fillings, you have to take a printout of the locked choices. That list of page will be generated with locking date and time, IP Address of computer and system generated Unique no.
What is Mock Counselling/ Seat Allotment in NEET 2019 Counselling Process?
Mock Counselling or Seat Allotment in NEET is an open option for the candidates to get an idea about the institutions in which they can get a chance to get admissions.
Mock Counselling in NEET 2019 helps candidates to tune up their Choice Fillings.
Seat Allotment
All the selected candidates will receive SMS and Email regarding on which institution and Course, they have got allotted, as per their Choice Filling within few days of Counselling.
Seat allotments will be done on the basis of the rank, category, and Choices of Preference filled during counselling by the candidate.
Candidates must be reporting to their allotted college and confirm their seat by paying the 1st Years' course fee within the given time, failing which their seat will be canceled and will be allotted to the next candidate automatically.
NEET Counselling 2019 – Mop Up Round
Mop up round of counselling in NEET 2019 is conducted by the state government after the Primary 2 rounds of Counselling, against reverted seats from 15% of the All India Quota.
Actually, these are the seats left over without admission filled after the 1st & 2nd round of counselling.
The only candidates, who do not get a seat allotment in either of the two rounds can participate in Mop Up round of NEET Counselling 2019.
NEET UG 2019 Counselling- Resignation of Seats
In the case, when the candidates are willing not to get the admission in their allotted institution and course, they are provided with a facility to file online resignation from the allotted colleges.
An Online generated slip will be provided for the students on the occasion of surrendering their seat after the allotment under All India 15%.
If the candidates are mandated to report offline to the institution for the resignation of the seat, they will be intimated online.
Candidates those who are resigning their allotted seats are restricted to participate in any further rounds of counselling in All India 15% Quota.
Second Round of Counselling for NEET
Who is eligible for the second round of counseling?
Registered and Eligible candidates, for those whom, seats were not allotted in any institutions in the Round 1.
Candidates whose admission got canceled due to change of category.
Candidates who have reported at the allotted college and opted for an upgrade in their reporting period.
Paperwork: Documents Required for Counselling
Candidates must take all the following original documents along with attested photocopies for admission in their allotted institutions.
Admit card

NEET 2019 Result/Rank Letter

Birth Certificate

Class X Certificate

Class XII Certificate

Class XII Marksheet

8 passport sized photographs (Same as the one affixed on the application form)

Provisional Allotment letter generated online

Proof of Identity

Category Certificate (if applicable)
Counselling for 15% All India Quota
15% All India Quota Seats are held for counselling by The Directorate General of Health Services (DGHS), Government of India.
All deemed, central, state universities will be participating in this online counselling.
Seats of ESIC and AFMC, BHU & AMU will also be filled in this counselling.
As per the directions of DGHS, Candidates will apply for 15% of All India Quota seats and Counselling will be stopped soon as per the availability of seats.
If the candidate is willing to get admission in any other state in India, they must participate in this counselling session.
Candidates, participating in All India Counselling are also allowed to

participate in State Counselling of their respective states without any kind of restrictions.
Note: Counselling will be on the basis of candidate's All India Quota Rank. States like J&K, Andhra Pradesh, and Telangana will not participate in All India Quota counselling. If seats remain vacant in All India Quota, they will be transformed into State Quota seats.
Counselling for 85% State Quota Seats
For state quota and other seats falling underneath the ambit of respective States, applicants must apply to their State Quota Counselling.
The counselling for Private Medical Colleges will also be conducted by the concerned State Counselling Committee.
Candidates need to register on their concerned state's counselling websites or apply offline as per their state's respective instructions.
Counselling will be conducted on the basis of the candidate's rank in the state merit list.
Admission to colleges in J&K, Andhra Pradesh, and Telangana will be done solely on the basis of state counselling.
NEET 2018 Cut off
Details of the candidates qualified the test on the basis of the minimum qualifying criteria of NEET UG, 2019 are as follows:-
Category
Qualifying Criteria
Marks Range
No. of Candidates
OTHERS
50th Percentile
691-119
6,34,897
OBC
40th Percentile
118-96
54,653
SC
40th Percentile
118-96
17,209
ST
40th Percentile
118-96
7446
UR & PH
45th Percentile
118-107
205
OBC & PH
40th Percentile
106-96
104
SC & PH
40th Percentile
106-96
36
ST & PH
40th Percentile
106-96
12
Total
7,14,562
Detailed Procedure for NEET 2019 Counseling Schedule
For 15% All India Quota seats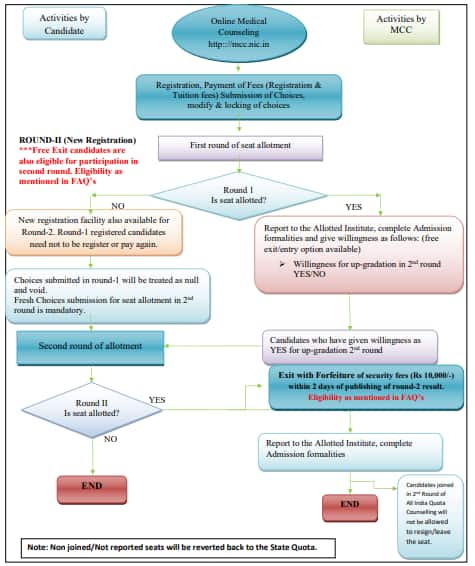 For Deemed Universities/Central Universities/ESIC Colleges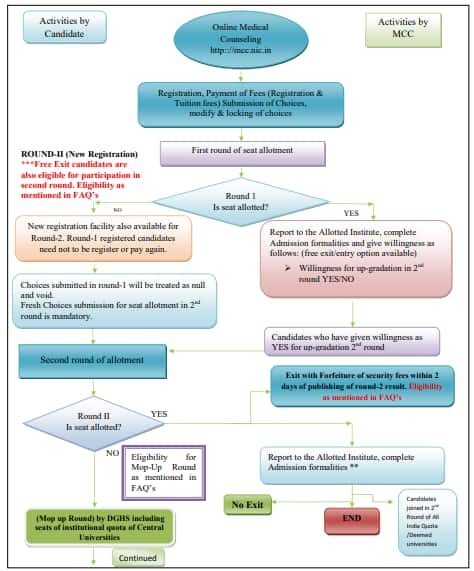 With Regards,
Dr.KIRAN M.B.B.S, M.D(Ortho)